So you know to shred old bank statements you've received via snail mail and to cut up credit cards no longer in use, but are you protecting yourself and your finances online as thoroughly? Here are a few helpful tips to ensure hackers on the worldwide web are no match for your cyber smarts.
Secure Your Computer
Let's begin with the basics. Whether or not you participate in online banking, nearly everyone has made a purchase online using a debit or credit card, so securing your computer is a must. For overall protection, take time to install antivirus software that will defend against malicious software including browser hijackers, trojans, and ransomware. Antivirus software is simple to acquire because many reputable providers offer their services free of charge and allow you to download the software directly from their website. As an extra measure of protection, check your antivirus program for anti-spyware software which is frequently included. Guarding yourself against spyware is imperative as an online banking customer. Spyware is a particularly worrisome form of malware that can be discretely installed to your computer in order to track and collect information about you. Additionally, look into whether your computer's operating system comes equipped with a firewall, which should be turned on at all times to shield against harmful network traffic.
Be Wary of Wi-Fi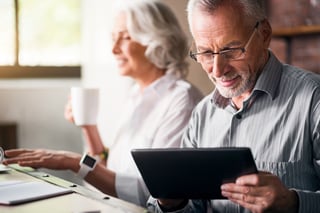 A good precaution to keep in mind, especially when logging into your online banking accounts in public, is to be wary of public Wi-Fi and unfamiliar networks, which could be a prowling ground for hackers. Before tapping into any public networks, ensure your antivirus protection is up to date and file sharing is turned off in your device's settings. To seek out more legitimate networks, password protected Wi-Fi and sites beginning in "https" will provide a more trustworthy connection than those without. At the end of your session, be sure to log out of any websites you've opened and forget the network so that your device does not pair up with that network in the future, unbeknownst to you. For the safest on-the-go access, stick to utilzing data on a personal device, or better yet, keep your online banking for at home.
Keep Quiet about Account Information
Though we might not like to admit it, sometimes even the most advanced antivirus software can't protect us from ourselves. Prevent yourself from unintentionally leaking financial information by putting your financial privacy first and foremost. Never disclose your account numbers or online banking information over phone or email. A common phishing scheme to avoid is responding to emails requesting the disclosure of personal login credentials, or even providing a link directing you to a login screen. In either instance, your online banking information and your hard-earned money can be compromised. Accessing your account by typing State Bank of Chilton's website directly into your browser will provide the most foolproof way of knowing you're in the right place. Additionally, keep in mind that if you ever receive a fishy phone call purporting to be from State Bank of Chilton, it's always ok to hang up and call back the State Bank of Chilton office number listed on our website or in the phone book.
State Bank of Chilton: A Partner in Protection
Protecting yourself from hackers requires forethought and vigilance. Antivirus software and firewalls can do the grunt work, but consistently monitoring your account activity and watching for potential threats via phone or email will help you catch any cyber thieves attempting to sneak through the cracks. Give yourself the peace of mind knowing your finances are protected through your efforts and those of your friends at State Bank of Chilton.

State Bank of Chilton Contact Information
Chilton Office: (920) 849-9371
Stockbridge Office: (920) 439-1414
Milwaukee Office: (414) 358-9371
Brillion Office: (920) 756-2181
Sherwood Office: (920) 989-2781
Website: https://www.statebankofchilton.com