Put State Bank of Chilton in Your Pocket With
TouchBanking mobile Banking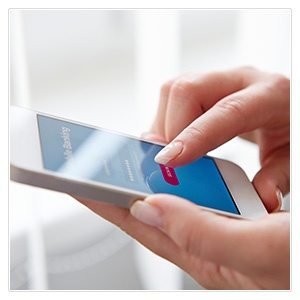 Keep your finances at your fingertips with TouchBanking Mobile Banking services from State Bank of Chilton. You can easily check your accounts, transfer money, pay bills, and even send funds to friends and family. Plus, it's easy to get the funds you've earned, where you need them, with our mobile deposit capture service — simply take a picture of the front and back of a check with your smartphone to deposit it. These dynamic products can be easily accessed through our app or mobile website.
Already an eBranch Online Banking Customer? Enrolling in Mobile Banking is easy:
Simply login to eBranch and enroll in mobile banking through the "Profile" menu in the upper right corner of the eBranch screen..
Select the "Mobile Banking" option to easily setup your devices. Click the "Enroll" button and the mobile banking enrollment window will open in a second browser window. Follow the prompts and you're on your way!
Search for the "TouchBanking" app in the Apple or Android store and download.
State Bank of Chilton's app code is: GoMobile1239
Mobile Deposit is Easy:
Log into mobile banking through the TouchBanking app.
Choose "Deposit" from the lower menu.
Select "Deposit Check" and choose which checking account you wish to deposit to. Enter the amount of the check (standard limits of $5,000.00 per item per day apply)
Endorse your check as follows: "For SBC Mobile Deposit Only" along with the signature of the payee.
Take a clear picture of the front and back of your check with good lighting so it is easy to read.
We will do the rest! Deposits made before 4pm M-F on Bank business days are generally credited the following business day.
Don't have a smartphone? Or, don't want to take time to login for a quick balance? No problem! Our text messaging feature allows you to send text to quickly check the status of your accounts.
Once enrolled, text HELP to 48179 to receive prompts to text to receive current balance or history on your accounts.
Let Us Help You With Your Banking Needs
Online banking from State Bank of Chilton can save you time, money, and stress. Contact Us today to learn how to get started with easy online banking and to learn more about how we can help you.